286,000 Sq.Ft Production Facility
Wallwin Integrated Systems was pleased to have been the chosen Security Systems, Access Control, Surveillance Systems contractor for this Cannabis Production Facility. 
This 286,000 square foot facility included GMP-rated R&D and Extraction areas. This project was licensed in 6 phases under the ACMPR & Cannabis act.
Project Cost: $ 2.5M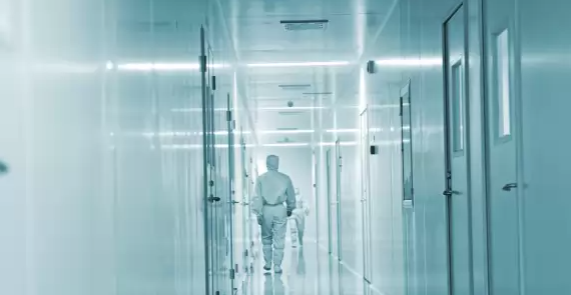 Scope of work consisted of the following systems supplied and installed by Wallwin:
250 Doors of Access Control
475 HD Cameras
512 Zones of Intrusion Detection
1.5 km of Perimeter fence alarm system
1.4 Petabytes of Raid 6 Redundant Storage
600 Non security related Cat6 Cables
10G Fibre backbone infrastructure for both Security and I.T. Systems
10G Layer 3 switching for I.T.
Over 400,000 feet of low voltage cabling installed
From Concept, design, right through to installation and service, we're here to help!
Barrie-Simcoe Emergency Services Campus
The Barrie-Simcoe Emergency Services Campus project is the latest IPD type project Wallwin Integrated Systems completed in collaboration with Wallwin Electric Services Ltd.
This 190,000 sq. ft facility is shared by Barrie Police Service, County of Simcoe Paramedic and Barrie Fire and Emergency Services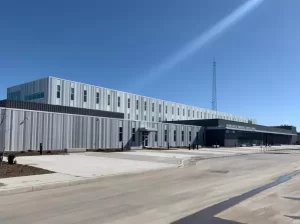 This project was designed and constructed using the Integrated Project Delivery (IPD) method in which all parties (owners, contractors, and consultants) were active and responsible participants, throughout the entire course of the project, from concept development through design, construction, and commissioning. All facilities were planned to meet 25-year space projections. The campus layout and ultimate building design will allow for future growth and expansion.
The project incorporates industry-leading IPD/LEAN principles including Training of all project stakeholders on IPD & LEAN processes. This is a 24/7 high-security operational facility. The building was designed to LEED Silver standards.
Scope of work included:
Cat6a Network Data Cabling
Access Control
Surveillance Camera and Video Management Systems
Boardroom / Meeting Room AV Systems
Asset Tracking Installation
Cell Boosting
Trust the experts at Wallwin for all your Network Cabling & Security needs
Security system installed at a Canadian Forces Base
A Canadian Forces Base in Ontario, recently completed construction on a new building with more than 108,000 sq ft. for one of their Military Divisions. The new facility replaces five buildings that were previously used for this one division, and they are now able to consolidate all of its functions.

Though there were several potential bidders, the Canadian Forces awarded the design-build contract to Graham Construction Company. Within that contract, Graham Construction chose to work with Wallwin Electric and our team of experts here at Wallwin Integrated Systems. Our team was trusted to provide the Base's new facility with state of the art equipment as well as quality workmanship and service.
We began with the Structural Cabling; supplying, installing and certifying over 1,300 Horizontal Cat6 Cables, and over 800 2 Fiber Horizontal OM3 10 Gigabyte Cables.
The facility was also outfitted with the latest technology for their Surveillance System. To meet the requirements of the Canadian Forces, we supplied, and installed 55 HD IP Cameras to connect to the VMS that was supplied by the Military Base. And to further enhance the security of the Canadian Forces' new facility, our team of professionals provided the infrastructure for 42 access controlled doors; allowing them the ability to control all access to their new building.
A final key component to this installation was the Public Address system. This particular PA system consisted of 88 speakers, Digital Mixing and hardware integration with the Base's current PBX system, and was supplied, installed and tested by our team.
Trust the experts at Wallwin for Network Cabling, Telephone or Security Systems
Surveillance system installed at local concrete facility
Wallwin Integrated Systems was selected by a local ready mix concrete facility for the supply and installation of their new IP surveillance system.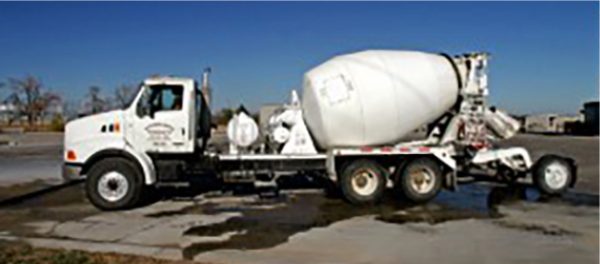 Designing a solution to meet their high standards, meant choosing a company with a reputation and passion for excellence in Security and Surveillance. The design team at Wallwin Integrated Systems where chosen to meet these standards. Wallwin worked closely with this facility to overcome all of their site specific challenges, and designed a system that not only met their needs, but also their budget.
The surveillance system designed by Wallwin Integrated Systems, features Sony High Definition cameras. These cameras are specially designed to capture objects clearly and adaptively even under very harsh or severe lighting conditions. Employing high definition cameras will help this Company maintain their level of dedication to their work processes and the safety of their facility. The team at Wallwin Integrated Systems also installed an exacqVision A series 20TB Network video recorder for balanced performance, reliability and capacity. This enterprise system will provide their facility with a reliable, mobile-friendly surveillance solution.
The surveillance solution for this local ready mix concrete facility, was custom designed to improve material handling processes, employee/customer safety and cost recovery. And as always, Wallwin Integrated Systems in Barrie, Ontario is honoured to be trusted in this project.
Trust us for security camers system design and installation
Security system installation at Ontario based medical marijuana production facility
Wallwin Integrated Systems in Barrie, Ontario designed and installed the security, network and power systems for an Ontario based medical Marijuana facility.

An Ontario Based Medical Marijuana Production Facility chose the experts at Wallwin Integrated Systems to design and install all of the Security, Network and Power requirements for their facility.
In accordance with the rigorous requirements of this location, the team at Wallwin deployed more than 165 HD (High Definition) Camera's and utilized the exacqVision Z Series NVR's (Network Video Recorder's), with storage expansion up to 6.4PB (Petabyte). With these NVR's, the production facility now has 2 full years of Video Storage Retention capabilities.
Also provided within this custom designed Security Solution were:
• Raid 6 Storage Array with Hot Spare Hard Drives for Mission Critical Data
• Gigabyte Managed Full POE Network infrastructure installed with RPS (Redundant Power Source)
• Redundant UPS Power and Generator Power
• More than 50 doors with Keyscan Access Control
• More than 250 Intrusion Zones Installed
The professionals at Wallwin Integrated Systems in Barrie, Ontario completed this large and complex installation on time and under budget!
Contact for more information about our security systems and how we can help you.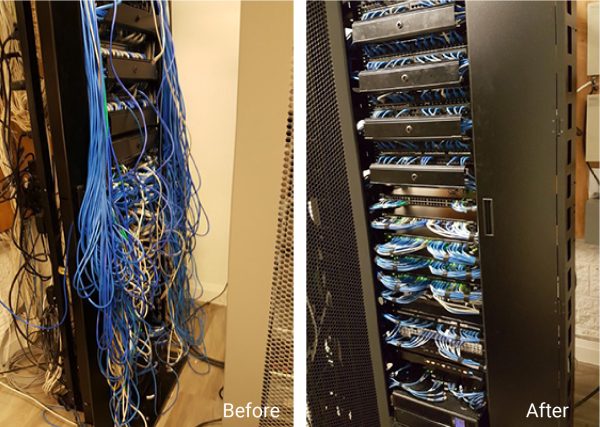 Rack Rework for Business in Barrie
Wallwin Integrated Systems performed a rack rework for a Barrie business in January 2018. As you can see from the before and after photos, the network cabling has been neatly organized.
For more information or to schedule a rack rework of your own, please give Wallwin Integrated Systems a call or visit our office in Barrie, Ontario.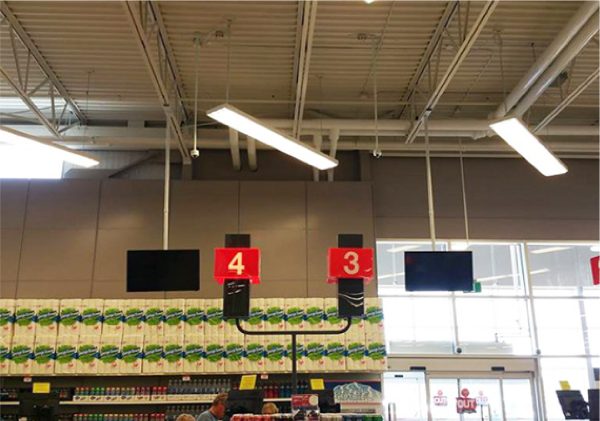 TV installation at Canadian Tire in Innisfil
Wallwin Integrated Systems in Barrie, Ontario installed the TV systems for the new Canadian Tire Store in Innisfil.
When looking for a company to install your business or store's monitoring system contact Wallwin Integrated Systems in Barrie, Ontario. Our team will work with you to install a system that right for you and your business.
"I chose Wallwin because of their professionalism, product knowledge and sincerity to help my business grow effectively. My experience has been excellent. I've always received great, friendly service to make sure downtime is minimal. I highly recommend Wallwin"
"As the Project Manager for OLG IT, I would like to commend Wallwin on the Georgian Downs Expansion as we near completion. Your crew on site was extremely accommodating to changes and requests and were always willing to help as situations or requirements arose. More importantly, the workmanship and attention to detail is excellent. The attitude to providing great customer service is obvious. If asked, I would not hesitate in recommending Wallwin."
"I have been incredibly impressed with Kevin and his team at Wallwin Voice & Data Networks. Even though he works in a very competitive industry, Kevin's team refuses to cut corners. Kevin drives his team to build business based on quality, customer service, and integrity. What separates Wallwin Voice & Data from the rest of the field is Kevin's leadership, experience, and commitment to be the industry star and dedication to be the expert in his field. I enthusiastically recommend Kevin and his team as the "go to organization" for all networking, security, and phone system needs."
"Wallwin Voice & Data has been providing United Way Greater Simcoe County with voice & data needs for more than 4 years now. Not only do they help us manage our day- to-day business, they have also helped us set up and manage our inbound call centre effectively to help assist Low income families throughout Ontario. Our Wallwin Account Manager's work has been nothing short of exceptional. Her impeccable attention to our specific needs is extremely valuable. She has been able to provide us with cost-effective solutions to our business, as well as keeping us running problem free. The knowledge and skill of the whole team at Wallwin Voice & Data is first class."
Trust the Experts at Wallwin Integrated Systems for All Your Network Cabling,
Telephone or Security Systems Needs.