Welcome to Wallwin Integrated Systems of Barrie, Ontario
The Wallwin name has been synonymous with excellent service in the Simcoe County and G.TA. area for over 60 years. Wallwin Integrated Systems, incorporated in 2008 is built on the same principles as all the Wallwin group of companies; provide outstanding service and excellent value for all customers.
We provide true, turnkey communications & security solutions.
Featuring the installation and design of structured cabling infrastructure, video surveillance and security, card access, enterprise wireless and data networks. All of our services are supported by 24 hour on call technicians bringing added value and peace of mind.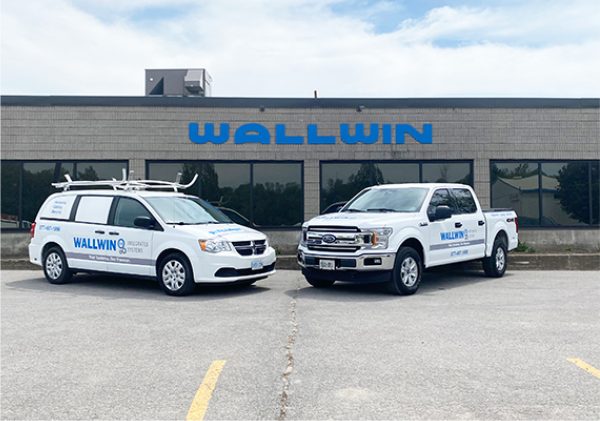 We have a heritage rich in experience and talent.
Our 20+ team of staff, project managers, estimators, programmers, and technicians are qualified to get the final installation and results that you need to ensure the success of your project. Our project portfolio includes installations at high security facilities requiring hundreds of cameras, access control points and network drops, to small business solutions and everything in between.
Our design and installation services feature BICSI Registered Communications Distribution Designers (RCDD) and manufacturer trained and certified technicians. We are equipped with the latest test equipment for certifying category 5e, 6 and 6a networks as well as both single and multimode fibre infrastructures.
We are a part of the Wallwin Group of Companies serving Simcoe County and the GTA for over 60 years.
Our highly trained and experienced staff will ensure the success of your project from design to installation.
We stand behind our work and our services are supported by 24 hour on call technicians.
"I chose Wallwin because of their professionalism, product knowledge and sincerity to help my business grow effectively. My experience has been excellent. I've always received great, friendly service to make sure downtime is minimal. I highly recommend Wallwin"
"As the Project Manager for OLG IT, I would like to commend Wallwin on the Georgian Downs Expansion as we near completion. Your crew on site was extremely accommodating to changes and requests and were always willing to help as situations or requirements arose. More importantly, the workmanship and attention to detail is excellent. The attitude to providing great customer service is obvious. If asked, I would not hesitate in recommending Wallwin."
"I have been incredibly impressed with Kevin and his team at Wallwin Voice & Data Networks. Even though he works in a very competitive industry, Kevin's team refuses to cut corners. Kevin drives his team to build business based on quality, customer service, and integrity. What separates Wallwin Voice & Data from the rest of the field is Kevin's leadership, experience, and commitment to be the industry star and dedication to be the expert in his field. I enthusiastically recommend Kevin and his team as the "go to organization" for all networking, security, and phone system needs."
"Wallwin Voice & Data has been providing United Way Greater Simcoe County with voice & data needs for more than 4 years now. Not only do they help us manage our day- to-day business, they have also helped us set up and manage our inbound call centre effectively to help assist Low income families throughout Ontario. Our Wallwin Account Manager's work has been nothing short of exceptional. Her impeccable attention to our specific needs is extremely valuable. She has been able to provide us with cost-effective solutions to our business, as well as keeping us running problem free. The knowledge and skill of the whole team at Wallwin Voice & Data is first class."
Trust the Experts at Wallwin Integrated Systems for All Your Network Cabling,
Telephone or Security Systems Needs.